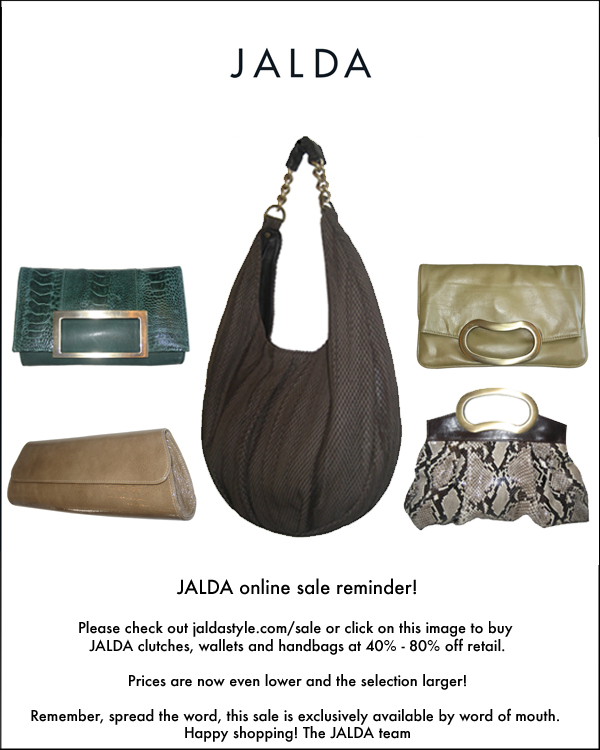 Jalda
sent an alert that their sale has further reductions as well as more items added to the sale! Follow the link by clicking on the invitation above or any of the pictures below to get to the secret sale. Remember,
Jalda
handbags are high quality, handmade in the US using Italian leather and exotic skins. As you'll see below you won't be sorry!
Goat Bean Clutch in Blue Regular Price $530 , Sale Price $185


Patent Jenane Clutch in Purple Regular Price $265, Sale Price $93
Ostrich Leg Retro Clutch in Forest Green, Regular Price $530 , Sale Price $196
Backsnake Crescent Tote in Chocolate, Regular Price $660 , Sale Price $232
Patent Original Clutch in Fuchsia, Regular Price $195 , Sale Price $98
Python Bean Clutch in Fuchsia, Regular Price $505 , Sale Price $228
Jalda Sale Handbag Photos all courtesy of Jalda and used with permission.
Here are pictures of the gorgeous Python Bean Clutch I had mentioned in my
previous post
about the
Jalda sale
. I was thrilled with the sale price (
very
affordable for such a high quality snakeskin handbag) and I'm enjoying using it. Jalda sent a sweet note with it, which gave my order a personal touch. It garners compliments every time, and I find it very versatile. It dresses up casual looks, and makes my more professional attire look very classy. I couldn't ask for more. I think I maybe developing a little addiction to
Jalda
handbags as I wish I had it in the budget to get a few more of the goodies on
sale
, as well as some of the
regular
priced handbags. Any wealthy readers out there want to help a girl out? (Only
half
joking with that comment!)
This is the bag folded into its clutch shape.
Here it is unfolded into tote size.
Here is the rear with the Jalda logo, which also has a magnetic closure discretely behind so that the bag stays shut.
The inside of the handbag with its beautiful turquoise lining. Its a close match to my nails today, and makes me want to pair the bag with some turquoise jewelry!
If you do buy anything from the sale, please comment -- I feel a need to live vicariously through others since this time around I can't budget buying another right now!

Cheers!