I was privileged to attend emerging NY designer Stacy Lomman's second collection show last week, and view how she has grown as a designer as well as the new direction she took for the upcoming season. If you'll recall her debut collection consisted of beautiful cocktail dresses in hem lengths to appeal to many different women. This collection, entitled "Les Femmes de la Resistancè", included a foray into sportswear, as well as some of her gorgeous dresses. In her words: "Fall 2011 glamourises and romanticises the bold and fearless women of the French Resistancè who lead high risk and clandestine lifestyles. Mystery, intrigue and espionage lurk within each piece in the collection. Luxurious fabrics and subdued colours feminize the military influence, thereby enforcing an air of chic strength. While the early 1940's serve as inspiration, the collection interprets the period into modern and very wearable clothes." She's managed to accomplish exactly that with this latest collection!
Motorcycle jacket in grey wool with distressed silver foil print, black wool/mohair shirt with back patch pocket.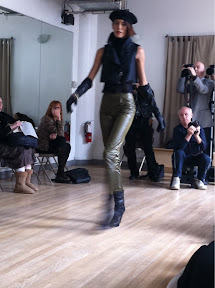 Black cropped trench vest in heavy silk twill, lined with olive nylon, coated nylon pencil pants with back pocket detail in olive. (I loved the combo of black and olive as well as this silhouette -- military without being too overt.)
Olive bomber jacket in crocodile patterned jacquard, black leather shorts.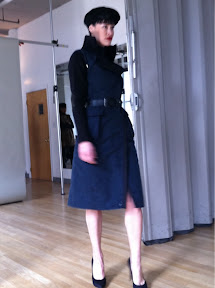 Unlined trench coat in double face in poly/nylon/mohair and heavy rib knit sleeves. (I think this one is a great look for so many different figure types, again proving Stacy has a knack for designing for many, not just model figures!)
Mushroom grey cropped jacket in wool/cashmere lined with coated nylon in grey, matching pencil skirt with "gunflap" detail.
Camel cape in wool/mohair lined with silk, cigarette pant in bronze stretch satin. (While I'm not sure I could pull this look off, I'm in love with it! Capes are a staple in my wardrobe, and I love this interesting take on it!)
Beige angora/cashmere dress with knit bodice, open back & bullet/chain detail.
Asymmetric, one-sleeve dress in olive crocodile patterned jacquard & leather trim.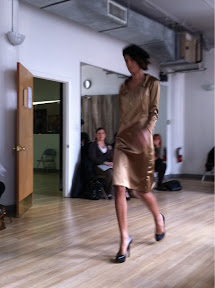 Bronze stretch satin dress with trench detail in back and shoulder.
Strapless column dress in bronze cashmere with gold zipper & chain detail. (I love this look and the detailing!)
Black slim dress in crepe black acetate with fleur-de-lis breast patch and leather trim. (This is also a favourite look .... now if I can only find an occasion to wear it!)
Slate grey dress with full skirt in nylon "parachute" fabric.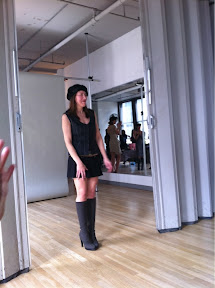 The talented and lovely designer herself- Stacy Lomman!
While I would consider her debut collection elegant, glamourous, and sexy, this collection moves on to be elegant with an edge. Class with some sass! I believe the pieces could easily be incorporated into ones existing wardrobe, and can easily see women of all ages not only finding the collection appealing, but looking fabulous at any age! Triumph! Brava Stacy!
Special thanks to Stacy for allowing me the opportunity to view her new collection, may there be many more!
For pricing and other enquiries, please contact Stacy at: taffetadarlings@gmail.com Also don't forget to check out Stacy's blog to keep up to date on her collections and more on:
http://taffetadarlings.blogspot.com/
Her official website is:
http://www.stacylomman.com/
XXX